PSG ultras warn Real Madrid that the second leg will be 'a war'
Real Madrid were warned by Paris Saint-Germain's fanatic supporters on Sunday evening.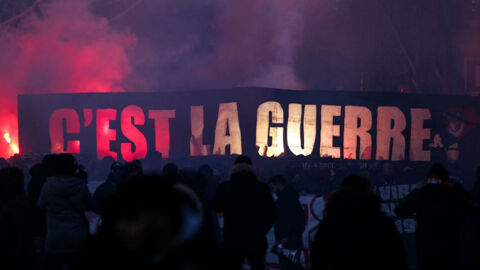 Marseille were the visitors to the Parc des Princes for a Ligue 1 fixture and those in attendance took the opportunity to create an atmosphere of flares and banners, which indicated their readiness for the return leg with the European champions on March 6.
The French club need to overturn a 3-1 deficit, but courtesy of their away goal at the Estadio Santiago Bernabeu they need only win 2-0 to progress to the quarter-final stage.
It will be imperative that the Parisian club have the support of their fans for that encounter, and the fans showed their commitment in the match with Marseille.
Thursday even saw a group of PSG ultras welcomed into the club's training facility in an attempt to motivate the players ahead of the two big matches they were about to play.
"We want the people of Real Madrid to feel what it's like to come to Paris," they explained.
"We invite everyone to arrive to the stadium early with their shirts and scarves.
"We will create a fantastic display and boost our players."
This won't be a new experience for Los Blancos, with the travelling Parisian supporters having previously created memorable scenes in the Spanish capital in the hours leading up to kick-off in the first leg